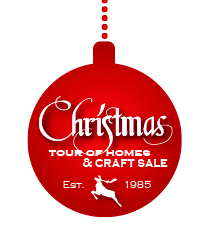 The Annual Christmas Tour features 4 privately owned homes and the first floor of the historic Octagon House, all decorated in their Christmas finery.  
This year's private homes include:
A 2-Story Hidden Treasure, snuggled in a quiet neighborhood featuring a large kitchen with granite countertops and custom backsplash and a great room with 20 foot ceilings that brings in natural light. This home features a bit of 'whimsy' in each room, with warm, bold colors that make the woodwork 'pop'.
Mid-Century Modern Ranch, nestled on 5 acres, this 1997 home exudes its own personality with a very bohemian-eclectic and well-traveled style. The foyer greets you with a beautiful curved staircase that sets the tone as risky colors and uniquely decorated rooms treat you to something delightfully unpredictable.
A Transitional Style Home,  traditional and contemporary design, furniture and finishes that create a classic design that marries well with the homes architectural details.  Located in the heart of downtown Hudson, this Victorian two-story home has upper and lower front porches, sweeping staircase and a Chef's kitchen.
A 1920's Home, fully remodeled DIY style, featuring rustic charm with custom wood products including hickory hardwood floors and cabinets, reclaimed barn timbers, paneling and cabinets.  The heritage of this homeowner is featured throughout the home.
Two Tour Options:
EVENING DAZZLE TOUR
Friday Only: November 16, 6 pm-9 pm
​Visit our four homes during the evening hours when each home sparkles and glows! Transportation is NOT included. You may use your ticket on Saturday or Sunday to tour the first floor of the Octagon House.
​Ticket Price: $35 
TRADITIONAL TOUR
Saturday, November 17 from 10am – 5pm
Sunday, November 18 from  Noon – 4pm 
​Ticket Prices:  Tickets are $25.
Tickets purchased by November 10, 2018 will be entered into the door prize drawings at stores and the Grand door prize drawing in each home.
$21 (Pre-Sale Discount will apply at check out) / $23 after Nov 11.
This popular, daytime tour features four private homes and the first floor of the historic Octagon House decorated OVER-THE-TOP for the holiday season.  The Traditional Tour includes the convenience of a free shuttle service with stops to dine and shop along the way.  A map is provided with each ticket. Shuttle transportation is included or you may drive yourself.
Must be 12 or older to attend.
Make sure you wear socks as you will need to remove your shoes at each of the homes (break out your favorite holiday socks!).
CRAFT SALE & MARKETPLACE
​Saturday Only: November 17, 9 am – 5 pm
2 Floors of Vendors
FREE Admission – No Ticket Required
​Hudson House Grand Hotel
​1616 Crest View Drive
​
2 Floors of Vendors & Crafters.
 Find the perfect item for your home or gift for a friend at the Craft Sale & Marketplace held in conjunction with the Christmas Tour of Homes! Explore the craft booths on the ground floor and the marketplace vendors on the second level of the Hudson House Grand Hotel. Jewelry, apparel, ornaments, household goods, and gourmet foods are among the most popular items.
If you are interested in having a booth at the craft sale (Handmade items only, no manufactured items) download the 
Crafter Application
. An additional room will be opened if enough applications are received. The main room is full.
GIRLS GETAWAY LODGING PACKAGES
​Slip away with the girls for the weekend to shop, dine, relax and attend the Christmas Tour of Homes!
 View the 2018 lodging discounts HERE
.
(715) 386-8411.