IMPORTANT! Due to the Coronavirus (COVID-19) health crisis events on our calendar may be canceled or postponed. Please check websites for updated information!
Ever Wonder How Maple Syrup is Made?  Now Is Your Chance to Find Out!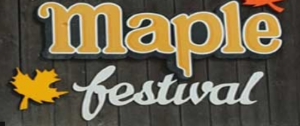 Maple syrup producers in Northwestern Wisconsin are opening their sugar houses to the public.  You'll see operations cooking in a flat pan on a wood fire to larger producers using reverse osmosis as part of the process.  Some producers will be offering tours of their sugar bush woods showing sap collection systems from pails to bags to tubing systems.
Farms are open:  9am – 4pm.
Here is a list of participating Farms:
Hardwood Hill Sugar Bush – 802-150th Ave., Amery, WI 5400 715-554-2731
Z-Orchard – 654- 115th St., Amery, WI – 54001 715-268-8650 , 715-554-0895
Kripple Kreek Syrup Company – 955 US Hwy 63, Clear Lake WI 54005  715-607-0602
Rouzer's 5R-Hibbs McKinley Maples – 250th STH – 48, Cumberland, WI 54829  715-419-0473
Christian Maple Syrup – 12926 – Cty. Rd. O, Grantsburg, WI 54840  715-488-2797
Morley's maple Syrup – 1346 A STH. 48, Luck, WI 54853  715-554-2301
Richter Family Maple – 2717 – 170th St., Luck, WI 54853  715-554-2824
Gustafson's Maple Ridge Sugar Bush – 3242- 130th St., Frederic, WI 54837  715-327-4151
Mlejnek Family Sugar Bush – 1981 26th Ave., Rice Lake, WI 54868  715-205-8513
Hustad's Sugar Bush – 2165 – 111/2 St. , Cumberland, WI 54829  715-822-4608