IMPORTANT! Due to the Coronavirus (COVID-19) health crisis events on our calendar may be cancelled or postponed.  Please visit venue website/Facebook for up-to-date information on event.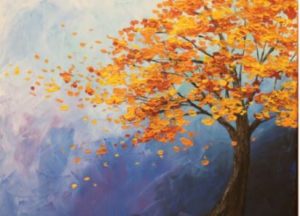 Art at the Winery – Paint and Sip
Date: Saturday, November 7, 2020
Time: 1:00 p.m. – 3:30 p.m.
Price: $40, includes materials, instruction, and beverage ticket
Get artsy at Dancing Dragonfly, as we sip wine and learn to paint while having fun. This will be a zero pressure, social painting class, with step-by-step instructions from an experienced artist. It is more fun than you can shake a paint brush at. The first glass of wine is on us. Painting materials are included.
https://www.dancingdragonflywinery.com/art-at-the-winery-series.html#novemberart