COVID-19 Health and Safety Notice
At Gammelgården Museum, the health and safety of our guests, staff and community is our highest priority.  In accordance with the Minnesota Department of Health's COVID-19 recommendations, Gammelgården Museum is temporarily closed.
Public programs have been canceled for the foreseeable future.  Please check back regularly. You may be assured that when we open, we will comply with all government and health recommendations
Midsommar Dag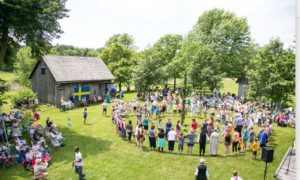 The most important holiday of the year and one of the most uniquely Swedish in the way it is celebrated. The Majstang (the Swedish version of a Maypole) is decorated with greens and flowers then raised in the center of town. Traditional Swedish music and dances celebrate the long days of summer!
Historic Buildings Open FREE 10-1 and after program
10-4 pm: Craft and Art Fair, Swedish Genealogy Society of Minnesota will be available to answer questions
10-1 St. Paul Kubb Club Society demonstration
11:30 to 12:30: Children's "Immigrant for a Day" Activities, Games and Crafts
Participate in traditional Swedish Culture by enjoying a Midsommer picnic in the park! Picnic packs featuring a variety of Swedish Smorsbord (open faced  sandwiches), fresh fruit and Swedish potato salad will be available for purchase for $8 in the gazebo beginning at 11 a.m. Gammelgården's popular dala lunches, which include peanut butter and jelly sandwich and picnic fare geared toward the youngsters will also be available for $5. Beverages will be available under the canopy – Coffee, Lemonade, keg root beer and water. Purchase your refillable cup for $1!
New this year will be our bake sale tent, open from 10 am to 4 pm. You will find Swedish treats as well as family friendly sharing sized sweets.
1pm: Raising of the Majstang followed by program of music and folk dances
Dates
Saturday, June 27, 2020 10 a.m. to 4 p.m.
Rates
tours of buildings – free: FREE
Food vendors will charge. All other activities are free.